Army sniffer dog Theo given top honour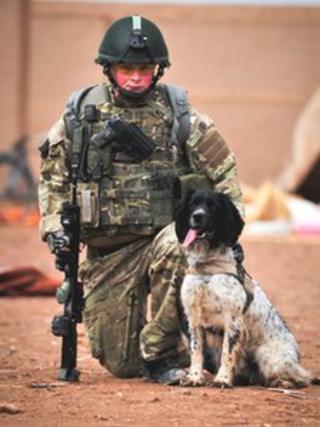 An army dog who died just hours after his handler was killed in Afghanistan is to be honoured with the animal version of the Victoria Cross.
Springer spaniel Theo will be awarded the Dickin Medal next month.
L/Cpl Liam Tasker, 26, from the Royal Army Veterinary Corps, from Kirkcaldy, Fife, was killed in Helmand province on 1 March while on patrol with Theo.
His family believe the dog, which died hours later from a seizure, suffered a broken heart.
Theo's posthumous presentation will bring the total number of PDSA Dickin Medals awarded to animals in war to 64.
Since the introduction of the medal in 1943, it has been awarded to 28 dogs (including Theo), 32 World War II messenger pigeons, three horses and a cat.
'Most finds'
Theo was deployed during conflict in Afghanistan in 2010 and 2011.
His role was to provide search and clearance support, uncovering hidden weapons, improvised explosive devices (IEDs) and bomb-making equipment.
During his time in Afghanistan, Theo made 14 confirmed operational finds, the most any arms and explosives search dog in Afghanistan has found to date.
One such device was found by Theo while supporting 11 Platoon 1 Royal Irish Regiment.
Theo was searching a crossroads in the Nad el Ali South district and detected an improvised explosive device which, if detonated, could have killed many soldiers and civilians.
He helped uncover not only many hidden explosive devices, but the materials that could be used to make them.
In December 2010, while supporting the Irish Guards and Danish troops forming part of the Coalition forces, Theo identified two bags of fertiliser and a large quantity of parts intended to make IEDs.
On 1 March 2011, Theo and Lance Corporal Tasker were on a mission in support of the Irish Guards in the Nahr-e Saraj district in Helmand, when a fire-fight broke out, killing Lance Corporal Tasker.
'Exceptional devotion'
Theo was being taken back to Bastion when he started having seizures. He died, despite immediate first aid and veterinary treatment.
Jan McLoughlin, PDSA director general, said: "We are very proud to posthumously award Theo the PDSA Dickin Medal, the highest award any animal can receive for life-saving bravery in conflict.
"Theo's exceptional devotion to duty as a military working dog in Afghanistan saved countless human lives.
"The award of this medal, recognised worldwide as the Animals' Victoria Cross, honours his service in life and his sacrifice in death.
"It serves as a very poignant reminder of the loyal companionship and dedication of man's best friend."