Dunfermline postman hits out after 18th dog bite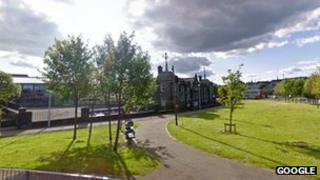 A Fife postman has hit out at pet owners after being bitten by a dog for the 18th time in his 20 year career.
Garry Haldane needed treatment after being bitten by a German Shepherd while on his rounds in Dunfermline.
Mr Haldane had been delivering letters to homes near Dunfermline High School when he was attacked on 25 August.
He said it was "not acceptable" for postal workers to be subjected to animal attacks. A 51-year-old man has been cautioned and charged.
Mr Haldane said: "I heard the dog bark and it attacked me from a side alley and bit my leg."
Dog attacks
He was taken the nearby Queen Margaret Hospital for treatment to puncture wounds and bruising.
Mr Haldane, a rep for the Communication Workers Union (CWU), has recently been campaigning for postmen to get better protection from dangerous dogs.
In West Fife, postal workers have compiled a list of addresses of dangerous animals after more than 30 dog attacks on Royal Mail employees were reported in the space of 12 months.
That figure was up by 74% on the previous year.
Mr Haldane added: "It is not acceptable that postal workers, or anyone else for that matter, should be subject to dog or animal attacks because they are not under control when we visit the owner's property."
'Minimise harm'
The CWU estimates that about 5,000 postal workers across the UK are attacked every year.
Royal Mail spokeswoman Julie Pirone said its first priority was to ensure the welfare and safety of its employees.
"We regularly communicate with our people about the dangers of dog attacks and provide advice to our postmen and women on techniques to minimise harm in the event of an attack, and keep a register in each delivery office highlighting any potential risk," she said.
"Over £100,000 has been spent on awareness campaigns and equipment to help reduce the risk of injury.
"However, even just being threatened by an unrestrained pet is a frightening situation for our delivery staff and we would appeal to owners to keep their pets under control, especially if they know their pets have a territorial nature."