Bull escapes from Edinburgh Zoo enclosure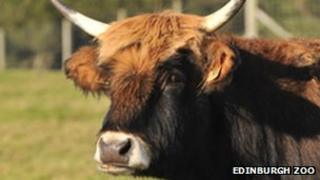 Visitors to Edinburgh Zoo were herded indoors when a bull escaped from its enclosure.
The 600kg Heck bull was on the loose for about 40 minutes, until zoo keepers and vets used tranquiliser darts and managed to restrain the animal.
The escape was reported just after 15:00. The zoo apologised for any inconvenience caused and said it was now trying to work out how it happened.
It comes less than a week after another animal at the zoo was recaptured.
The scarlet ibis bird was missing for nearly a week, and was found four miles from the zoo.
The latest escaped animal was part of the zoo's herd of Heck cattle, which sport horns almost three feet long.
Three bull and nine female cattle arrived at the zoo from Devon in 2009 and are located in a field near the top of the hill on which the zoo is located.
An Edinburgh Zoo spokeswoman said: "An adult Heck cattle bull escaped from its enclosure at Edinburgh Zoo for 40 minutes.
"It stayed within the locality of the enclosure.
"Edinburgh Zoo visitors were immediately escorted to indoor areas in the zoo.
"Edinburgh Zoo's trained team of expert keepers and veterinarians safely and effectively darted the animal. Staff are establishing the circumstances of the escape, and have secured the area."
In May, hundreds of visitors to the zoo had to seek shelter after a family of hogs escaped from keepers and ran amok.
Guests who took refuge in the monkey house described scenes where zoo staff armed with sweeping brushes and dart guns pursued the animals.
After a drama lasting more than an hour, the adult hogs were captured unharmed.