Edinburgh festival goes out with a bang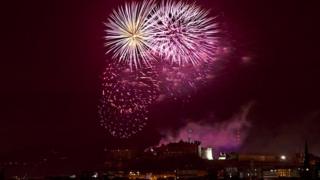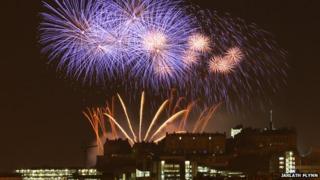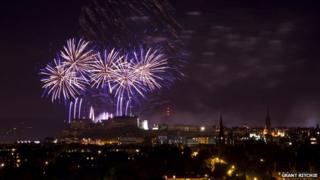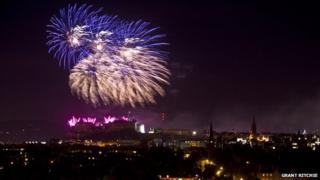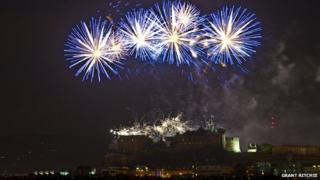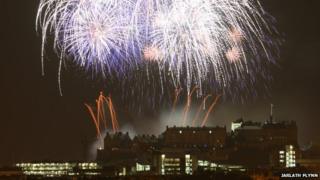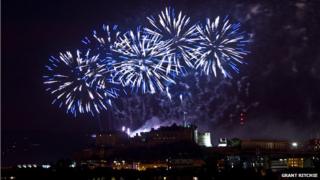 The Edinburgh International Festival came to an end on Sunday evening with its traditional fireworks concert.
The spectacular 45-minute display, with fireworks rising to 750ft (228m) above Edinburgh Castle, was accompanied by the Scottish Chamber Orchestra.
This year's festival saw an 11% rise in ticket sales, taking £2.83m at the box office.
It also saw a rise in the number of young people and people with disabilities attending events.
To mark the Queen's Diamond Jubilee, the fireworks programme included Orb & Sceptre, written for her coronation in 1953.
Thousands turned out to watch, although a usual viewing area at Inverleith Park was not opened after becoming waterlogged.
Speakers were also installed to relay the orchestral music which accompanied the fireworks.
Big screens and loudspeakers are usually set up in the park to allow more people to enjoy the spectacle but the recent wet weather made it unfit to be used.
Last year, about 250,000 people are thought to have watched the fireworks from vantage points around the city and throughout the Lothians.
The fireworks concert was first used to end the festival in 1982.
The idea was to match the music of the Scottish Chamber Orchestra to the explosions of the fireworks in an effort to broaden the festival's appeal.
This year's concert closed with music from Laurence Olivier's 1944 film, Henry V.
The spectacle of two opposing armies charging at each other across the sky was being created above Edinburgh Castle, with the sky was divided into two.
One half of the fireworks represented the red and white of the English and the other the blue and gold of the French forces.
Four tonnes of explosives and more than 100,000 fireworks were used during the 45-minute concert.
It takes a team of 15 pyrotechnicians seven days to lay out the fireworks, which are set up on 17 different levels of Edinburgh Castle, from the ramparts to the top of the Castle Rock.
One of the highlights was the famous Waterfall, which consists of 70 firing units laid out for 118ft (36 metres) across the Castle.
The display, which lasted a minute, descends 131ft (40 metres) down the Castle Rock.
Coarse aluminium flakes cause the fireworks to descend, while fine aluminium flakes give it a beautiful silvery whiteness.