Edinburgh and Glasgow airport passengers to be body scanned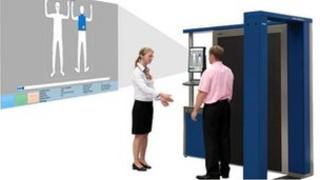 Body scanning of some passengers is being introduced at two of Scotland's busiest airports.
Bosses at Edinburgh and Glasgow airports said the measure would be implemented from 1 September, following direction from the UK government.
The technology aims to detect concealed threats or contraband.
It will alert security staff through an image which appears as a mannequin-style diagram on a small screen attached to the machine.
All images taken are deleted as soon as they have been assessed.
Passengers will be chosen at random or if an extra security concern is raised, such as activating the metal detector.
It will be mandatory for selected passengers to undergo the scan and those who refuse will not be able to board their flight.
A member of airport staff will be present throughout the process, which will take place within the security search area.
Gordon Dewar, chief executive of Edinburgh Airport, said the scanner was a "great enhancement" to its security procedures.
He added: "The scan is quick, simple and safe for everyone and does not compromise individual's privacy as the image taken is deleted straight after it is assessed.
"Passengers asked to undergo the scan must comply with the rules as stated by the Department for Transport."
It is understood the scanning takes a few seconds and would not impact on the processing of passengers.
Amanda McMillan, managing director of Glasgow Airport, said security was of "paramount importance" .
She explained: "The technology employed by the body scanner is designed in such a way that it maintains the security of the airport whilst also maintaining the privacy of the passenger and we have already engaged with representatives of local community groups to address any concerns they may have.
Passengers are to be handed leaflets containing information on the scanner and the reasons behind its introduction.
The UK government held a review of aviation security in response to the attempted attack on Northwest Airlines flight 253 to Detroit on Christmas Day 2009.
A package of additional measures to enhance security was announced, including the use of body scanners. They were introduced in February 2010 at Heathrow and Manchester airports, with the intention to roll out the process nationally.