Rambler Stephen Gough: Sheriff orders mental assessment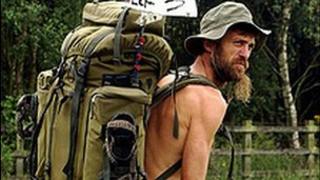 A sheriff has ordered an assessment of the mental health of the man dubbed the Naked Rambler after convicting him of a breach of the peace in Fife.
Stephen Gough, 53, from Hampshire, who represented himself, sat naked in the dock at Kirkcaldy Sheriff Court in Fife throughout his two-hour trial.
Gough was convicted for walking naked in a public place near a children's play park in Dunfermline on 20 July.
Sheriff James Williamson deferred sentence on Gough until next month.
Gough was remanded in custody.
The sheriff ordered social workers to produce a report independently assessing Gough's emotional and mental health.
Gough has spent much of the past six years in prison on similar charges.