Edith Piaf writer Charles Dumont performs in Edinburgh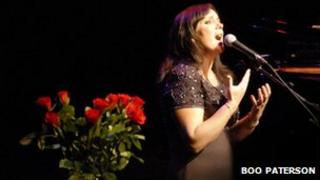 The composer of the famous Edith Piaf song Non, Je Ne Regrette Rien has been performing at an Edinburgh Fringe show dedicated to the French singer.
Charles Dumont wrote more than 30 songs for the artist dubbed the "little sparrow".
In a one-night-only appearance, the 83-year-old play piano accompaniment for Scottish singer Christine Bovill at her show Piaf at the Famous Spiegeltent.
Ms Bovill said singing with Mr Dumont was the "highlight of her career".
Frenchman Mr Dumont said he was delighted to be in Edinburgh.
He added: "I have played all over the world, from the US to Russia, from Canada to Germany and many friends have said over the years that I must visit Scotland."
"Well, time is passing - so I thought why not now?"
He continued: "When the invitation came from Christine to join her in her performance of Piaf at the Famous Spiegeltent, I was very happy to accept; I love her, she is an extremely talented singer with great sensitivity for this material."
Ms Bovill, who is performing Piaf until 24 August, gave up her profession as an English and French teacher to pursue a career in singing.
Edith Piaf became an international star after spending most of her early life on the streets of Paris.
Famous for singing ballads - Ms Piaf's songs include La Vie on Rose, Milord, La Foule - and Non, Je Ne Regrette Rien.
After recording Non, Je Ne Regrette Rien in 1960 with Ms Piaf, Mr Dumont continued to write songs for the singer until her death three years later in 1963.
Mr Dumont said working with the singer was "thrilling".
He said: "Piaf was a unique artist - she gave me the greatest opportunities in my life and she was the greatest singer France has ever produced.
"She worked harder than anyone I've ever known - she inspired all of us to write and compose at the highest level - it was exhausting, exasperating and utterly thrilling."
And does Mr Dumont regret anything in his own life? No, Not much.
He said: "In life we must focus on the many good things we have done, whilst always acknowledging when we got it wrong, when we made mistakes.
"I hope I have done that throughout my life - I certainly have a great deal to be thankful for and to celebrate."