Sea eagles release marks 'milestone' in breeding project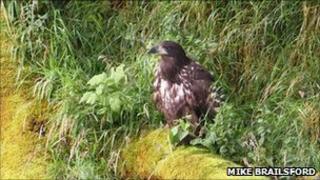 A project to reintroduce sea eagles to the east coast of Scotland is due to end this week, with the release of six young birds from a secret location in Fife.
That will take the total number of sea eagles released on the east coast in the last six years to 85.
Meanwhile, the number of sea eagles breeding on the west coast is steadily increasing.
The sea eagle, or white-tailed eagle, is Europe's biggest bird of prey.
An adult female is significantly larger than the male and, with a wingspan of 2.5m, can weigh as much as seven kilogrammes.
Throughout the 19th Century, the species was poisoned and shot by gamekeepers. It also fell victim to egg collectors and by 1918 it had been wiped out in Scotland.
But for decades, conservationists have been working to reintroduce the sea eagle, by releasing young birds taken from nests in Norway.
At times, the work has proved to be controversial. Crofters and landowners have expressed their anger about sea eagles feeding on lambs and poultry.
RSPB Scotland, which led the project, insists sea eagles mainly eat fish and seabirds, but also feed on carrion and small mammals, such as rabbits.
This latest release is being seen as a key milestone by the RSPB.
Rhian Evans, the charity's Sea Eagle Project Officer, said: "We owe a great deal to the volunteers, farmers, landowners, partners and members of the public who have helped us reach this important stage of the reintroduction."
On the west coast, there are now 57 breeding pairs but it is about 200 years since sea eagles last bred on the east coast.
The project's backers, who also include Scottish Natural Heritage, and Forestry Commission Scotland, are hoping that will change as more and more of the released birds reach sexual maturity.
Environment Minister Stewart Stevenson said: "The return of sea eagles to the skies of Scotland's east coast marks an important step in ensuring we now have a viable population of these magnificent birds.
"As well as fulfilling a role in our ecosystems, the birds are an important feature for our growing nature-based tourism industry."