Sean Hoy admits rolling pin and knife attack in Edinburgh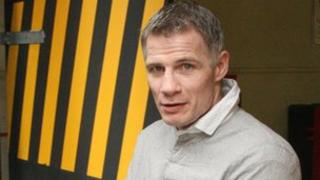 A man who twice won appeals quashing his conviction for a murder has admitted attacking a man in a flat in Edinburgh with a knife and rolling pin.
Sean Hoy, 42, inflicted "potentially life threatening injuries" on Edward Lenyatsa in Granton on 20 April 2012.
Hoy was originally charged with attempting to murder Mr Lenyatsa.
But the Crown accepted his guilty plea to a reduced charge of assault to severe injury, permanent disfigurement, danger of his life and robbing him.
Lord Pentland told Hoy at the High Court in Edinburgh that it was "an extremely serious matter" and remanded him in custody ahead of sentencing next month.
Carotid artery
Mr Lenyatsa was left with scars on his face, neck and back.
The court heard that Mr Lenyatsa had rented a room in the flat and a week earlier Hoy had visited another occupant and introduced himself.
The following day Mr Lenyatsa returned from work to find his laptop was missing. He was told he would have to pay those who now had the computer to secure its return.
The court heard he agreed to pay £100 and Hoy later arrived with the laptop. Mr Lenyatsa gave him £50 as it was all he had.
But days later Hoy returned with an accomplice and Mr Lenyatsa was pushed into an armchair and punched in the head by Hoy.
The intruders went into the victim's room and began picking up valuables, including a television. The victim tried to stop them but was repeatedly punched by the pair.
Hoy followed Mr Lenyatsa into the living room and began to strike him on the head with a rolling pin while the other man stabbed him in the back with a knife.
A neighbour who heard shouting and banging contacted the police.
Mr Lenyatsa was taken to hospital for treatment and was found to have a neck wound that was close to the carotid artery.
Unemployed Hoy, described as a prisoner, was twice convicted of the murder of 29-year-old David Sproule, outside Skippers pub in Edinburgh, in 1995, but won two appeals and authority for a further retrial was refused.