Vulcan joins RAF Leuchars Jubilee airshow line-up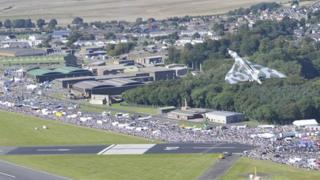 The last airworthy Vulcan bomber is among the highlights of this year's annual RAF Leuchars airshow.
It will join the Battle of Britain Memorial Flight, the Red Arrows, the Chinook Display Team and the Leuchars-based Typhoon Display Team.
The delta wing aircraft from the Cold War era will commemorate the Queen's Jubilee year and the 60th anniversary of the first flight of the Vulcan.
The RAF Leuchars Jubilee airshow is on Saturday 15 September.
The Vulcan will fly at the event, powered by its Rolls Royce Olympus engines which make a "distinctive" roar.
Dr Robert Pleming, chief executive of the Vulcan to the Sky Trust said: "I am delighted Vulcan XH558 will be appearing at the Leuchars airshow as we have always received a very warm welcome in Fife.
"Additionally, every flight we make during this special year will be dedicated to The Diamond Jubilee of Her Majesty Queen Elizabeth."
Vulcan XH558, "the Spirit of Great Britain", was the first Vulcan B.Mk2 to be delivered to the RAF in 1960 and is now the oldest complete Vulcan in the world.
XH558 was also the last Vulcan to leave RAF service, flying from 1986 to 1993 as the single RAF Display Vulcan.
Its attendance at RAF Leuchars will be the Vulcan's only display in Scotland and will also mark the 30th anniversary of the Falklands conflict.
Airshow executive, Wing Commander Neville Clayton said: "It is a privilege to welcome the Vulcan to our Jubilee airshow.
"During the airshow we will honour the contribution made to the security of Great Britain by all the Armed Forces during Her Majesty's 60-year reign and the Vulcan will help ensure this year's show is one to remember for all the family".