Rambler Stephen Gough appears naked in court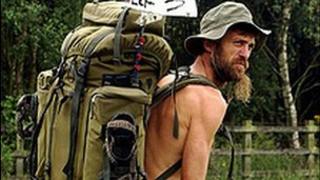 Naked rambler Stephen Gough has refused to wear clothes during a court appearance in Kirkcaldy.
The former Royal Marine is accused of committing a breach of the peace near a children's play park in Dunfermline on 20 July. He denies the charge.
Mr Gough, 53, from Hampshire, appeared at Kirkcaldy Sheriff Court ahead of his trial later this month.
He told Sheriff Richard McFarlane he would "absolutely not" put clothes on as he was "dressed appropriately".
Mr Gough said he would never wear clothes in court as it gave him "freedom".
The rambler made his name by walking nude from Land's End to John O'Groats in 2003.
On Friday he entered the court naked, apart from brown walking boots and a pair of white socks, and sat on a white bath towel in the dock.
Not guilty plea
Sheriff McFarlane told Mr Gough his appearance was "not appropriate" and could represent a contempt of court.
Depute fiscal Brian Robertson said he would not take action in the contempt issue, leaving that matter to the sheriff.
But told the court that the crown was prepared for trial.
Sheriff McFarlane asked Mr Gough if he would like to see a lawyer, in light of the contempt matters.
But the rambler insisted he did not need to see a lawyer, and was sticking to his plea of not guilty.
It is alleged that Mr Gough committed a breach of the peace at Cairncubie Road in Townhill, Dunfermline, by conducting himself in a disorderly manner and walking naked in a public place.
It is claimed he was close to a children's play park at the time, and refused to put on clothing or move away from the park.
Sheriff McFarlane said the case would continue to trial on 23 August, and asked Mr Gough if he would be making an application for bail.
Mr Gough replied: "No."