Harry Hill's 'secret' paintings at Edinburgh Art Festival
By Steven Brocklehurst
BBC Scotland news website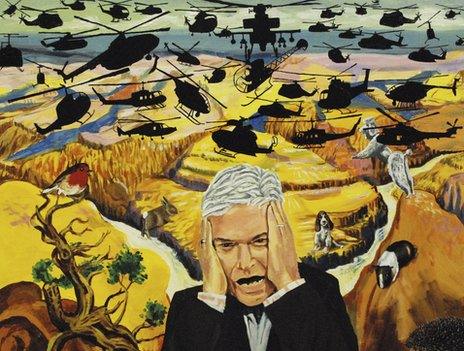 An exhibition of paintings and sculptures by comedian and TV presenter Harry Hill has opened as part of the Edinburgh Art Festival.
Titled My Hobby, the works show a parallel universe where celebrity and nature come together in surreal landscapes.
The TV Burp presenter told BBC Scotland he had been painting 'in secret' for the past 20 years.
The exhibition is being held above in a shop in George Street.
The comedian said: "I have been painting in secret for about 20 years. Basically what I do is I watch TV all day for TV Burp then I go to the kitchen and I get a piece of wood and I start painting.
"It is just a way of winding down really.
"People have said to me 'maybe you should have an exhibition' but I always kind of thought this was a little private thing I had going. It wasn't like I was going to sell them."
He revealed he had amassed so many paintings that it was "quite nice to get them out of the house".
The presenter said he received great support in developing his artistic side from his wife, who he described as a "proper painter".
"I kind of wanted to paint, and I used to paint a bit, and she was really encouraging," he added:
"It's just a really nice thing to do. I would recommend anyone to take up painting."
What can we expect in your Edinburgh Art Festival show?
"An art exhibition, with some paintings. The works are from an on-going series depicting a parallel universe where nature, celebrity and surrealism collide. There is horse on a surfboard, Bruce Forsyth, Brit pop coconuts, a portrait of Cheryl Cole and a memorial to Honey the guinea pig.
"This will be the first time I've shown my art to the public in a "proper" exhibition so I'm excited and nervous
How long have you been doing your "hobby"?
I've been painting for about 20 years. I'm a hobbyist artist in the strictest sense. I find it relaxing, pushing all the colours around and turning the blobs into images, some more successfully than others.
With whom would you compare yourself as an artist?
Well, I'm just a happy amateur when it comes to art, but I'm certainly influenced by, Hieronymus Bosch, Caspar David Friedrich, Thomas Gainsborough, Peter Blake, Neo Rauch the and of course Rolf Harris.
You've got to have a system! What's yours?
I make all the works sitting at the kitchen table, listening to radio and drinking tea. Not really a system, more little England anarchy.
Is your art meant to be funny?
"My works are not meant to be funny, but I'll be happy if people laugh at them.
"Laughter can be a very honest form of criticism. Lots of art you see is funny.
"One of the works in the show Noel Gallagher face painted onto a coconut, this might seem funny, but is in fact a complex play on two and three dimensionality, and Bourdieuian simulacra, all incorporated into tropical figurative trompe-l'oeil."
Is David Shrigley an influence?
"I'm a big fan of David Shrigley. Actually, it was his idea for me to do the show in Edinburgh Art Festival.
"What I enjoy about David's work is that it's full of humour, but also extremely dark at the same time. They are very much like visual gags.
You described David Shrigley as "at once funny but profound and subversive". Would this also describe you?
"I'm profound and subversive and at once funny. Totally different.
Are you commenting on popular culture, like in TV Burp?
"I am yes. But also, I'm not.
"Comments on popular culture ironically, often get immediately absorbed back into popular culture, but with a painting, you do actually have to see it in the flesh, to say you've "seen it".
How has the Edinburgh Fringe changed in the 20 years since you won the Perrier best newcomer?
"The Edinburgh Fringe has been a great launch pad of lots of amazing talent over the years.
"People who might not have got an audience anywhere else. That's its magic. It's changed a lot and keeps changing, but it's still one of the best places in the world to see new talent."
"I am currently writing the X Factor The Musical with Steve Brown who does all the music for TV Burp, plus I am developing The Harry Hill Movie and of course, painting in the evenings.
"Sadly I no longer have time to watch Emmerdale - but something had to give."
Harry Hill My Hobby is part of Edinburgh Art Festival, 2 August - 2 September 2012
Related Internet Links
The BBC is not responsible for the content of external sites.