Colin Marr death: Family call for new police force to re-investigate case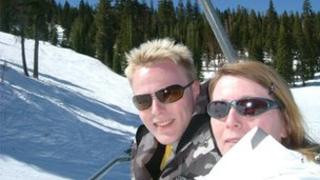 The family of a Fife man who died following a row with his girlfriend are calling for another police force to re-investigate the case.
The parents of Colin Marr, 23, made the plea after an independent inquiry was unable to back police and prosecutors who had insisted the death was suicide.
The independent report criticises Fife Constabulary, saying the case had a series of errors.
Mr Marr died from a stab wound to the chest in 2007.
He had been arguing with his fiancee at their home in Lochgelly, Fife, on 10 July, after Candice Bonar accused Mr Marr of cheating on her.
She said he stabbed himself before he pulled the knife from his chest and died.
After a three-week fatal accident inquiry, Sheriff Alastair Dunlop said he could not decide if the death was suicide or homicide.
Then an independent review was conducted following a request by the Crown Office.
The report was written by retired detective superintendent David Swindle.
In his report Mr Swindle said, after reviewing the case, he was unable to determine whether it was homicide or suicide.
He did, however, say there had been a series of errors in the case.
Mr Swindle said: "I empathise with the family and share their frustrations regarding the early irretrievable serious failings and other ensuing factors which have posed significant challenges for this case and affected their perception of the re-investigation which continues to be reviewed according to the Acpos Review Strategy."
He made five key recommendations:
A review of the fingerprint and forensic evidence.
Five key witnesses to be re-interviewed
An uncooperative witness to be interviewed
A review of the crime timeline
Actions previously identified but never carried out to be pursued
Mr Marr's mother, Margaret Graham, said: "It's five years, almost to the day, since my son, Colin, died at home from a stab wound to the chest."
She added: "I share Mr Swindle's frustrations at the 'basic and serious failings' in the investigation."
She said the report contained many lessons for Fife police and made recommendations which "give us hope".
Ms Graham said: "As Fife police is criticised so heavily in this report Colin's family want another police force to continue the investigation."
Liberal Democrat leader Willie Rennie and Mid Scotland and Fife Labour MSP John Park said they would now write to Lord Advocate Frank Mulholland to request a meeting, along with Mr Marr's family.
Mr Rennie said: "Since the family asked me to help back in 2008 it has been increasingly clear to me that Fife Constabulary has mishandled this investigation.
"This report confirms that. It is now imperative the five key recommendations from the report are taken forward by another force.
"I am sure the Lord Advocate will see the need for another force to be given the responsibility to establish the truth surrounding Colin Marr's death."
Fife Constabulary said it would not comment because it was a matter for the Crown Office.