Protest over Syria at Russian consulate in Edinburgh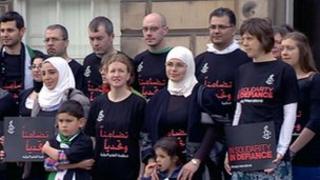 A group of campaigners have protested outside a Russian consulate to signify what they say is the number of people dying every day in the Syrian uprising.
The demonstration in Edinburgh marked 500 days since the start of the conflict.
Syrians living in Scotland joined with Amnesty International representatives for the protest.
The charity is calling on the international community to bring bloodshed in the country to an end.
It said it has the names of more than 12,000 men, women and children who have died since the uprising began.
UN high commissioner for human rights Navi Pillay has expressed "deep alarm" at the situation.
He said reports of forces arriving in the city of Aleppo "bodes ill for the people of that city".
The fighting in Aleppo has claimed the lives of at least 145 rebels and civilians in the last six days, according to the UK-based Syrian Observatory for Human Rights.
Shabnum Mustapha, director of Amnesty International Scotland, said the protesters targeted the Russian embassy because of the country's role in selling arms to Syria.
She said: "We are calling for an immediate arms embargo on all arms sales to the Syrian government, we are calling for the situation to be referred to the International Criminal Court to investigate war crimes, and we also want a freeze on the assets of the president and his associates.
"What started as a protest for freedom and rights has ended in terrible bloodshed."
Dr Mounir Atassi, a Dundee-based Syrian, still has family and friends in the country and said he was "terrified" for their safety. He has not been able to speak to them for weeks.
He added: "I'm from the city of Homs and that has been under siege for more than 50 days. They can't get food or medicine or water into the city.
"It is a humanitarian crisis now and what we see in the news is only the tip of the iceberg.
"The people of Syria have been crying out for an end to the violence but they have been met with a deafening silence. The international community must act."
Last month the UK made moves to stop a cargo vessel allegedly carrying refurbished Russian-made attack helicopters from completing its journey to Syria.
The MV Alaed had its insurance withdrawn by The Standard Club in London while it was about 50 miles (80.4km) off Scotland's north coast.