Crash victim Fiona Dickie who suffers if she wears high heels wins £18,000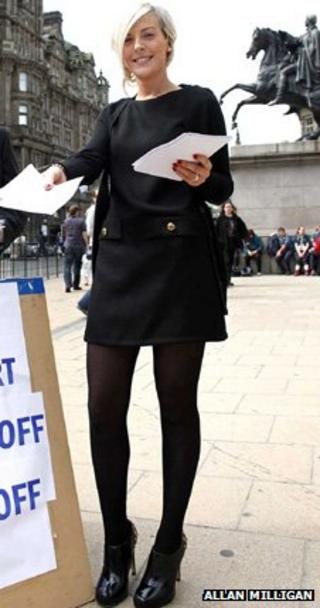 A beauty pageant winner has been awarded £18,000 after convincing a court that following a car crash she feels pain when wearing high heels.
Fiona Dickie, 24, suffered back injuries after her car was hit by a vehicle which undertook her on a road.
She raised an action at the Court of Session in Edinburgh suing Mohammadreza Khandani, from Edinburgh, for damages.
Miss Dickie, from Tranent, won the Miss Edinburgh competition in 2010 following the collision in 2009 in Edinburgh.
However, she said her sore back now affected her ability to take part in charity events.
Liability in the action was admitted but a hearing took place before judge Gordon Reid QC to decide the amount of compensation to be paid to Miss Dickie.
A valuation statement put forward by her lawyers claimed just under £20,000, but Mr Khandani's side put a figure of £3,500 on her claim.
The court heard that the accident happened on 10 April 2009 shortly after midnight in Edinburgh's South Clerk Street as Miss Dickie returned home from working at a drinks promotion event.
The customer sales manager went home after the accident but later phoned NHS24 and was advised to consult her family doctor and was subsequently referred for physiotherapy.
She was later diagnosed with chronic low back pain.
Mr Reid said it did not seem to him that Miss Dickie exaggerated her complaints and her continuing low back pain was attributable to the accident.
The judge said: "She has displayed a commendable attitude to work, life in general, and to her continuing back pain in particular.
"This is not the conduct of a malingerer or someone who is seeking to secure the most compensation possible for her injuries.
"The pursuer explained the limitations which have arisen since the accident. She has adopted a sensible attitude to her continuing back problems.
"She knows she can wear high heels but will suffer the next day for doing so. It seems to me that rather than being criticised she should be commended for her efforts."
The judge awarded her a total of £18,281, including £10,000 for her pain and suffering.