Edinburgh Legionnaires' outbreak: Total number of cases reaches 100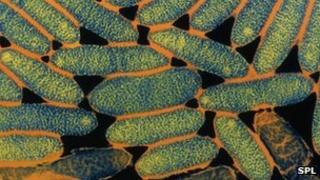 One more person has been confirmed as having Legionnaires' disease - bringing the total number of cases to 100 since the outbreak began in Edinburgh in May.
The health secretary said the person had been unwell for some time, and was being treated in hospital.
It brings the total number of confirmed cases to 52, while the number of suspected cases is at 48.
Three people have died in the outbreak, which is thought to have been caused by a cooling tower in the city.
At noon on Thursday, of those cases being treated in hospital, there were two patients in intensive care and six on general wards.
A total of 20 cases were being treated in the community and 59 have been discharged from hospital.
Ten cases are being treated outside the NHS Lothian area.
'Offer reassurance'
The ages of the confirmed cases range between 32 and 85, with more males than females affected.
Lothian and Borders Police and the Health and Safety Executive are jointly investigating the circumstances of the deaths under the direction of the Crown Office and Procurator Fiscal Service Health and Safety Division.
Health Secretary Nicola Sturgeon said: "The latest case of Legionnaires' has been ill for some time, and has now been identified as a confirmed case.
"Over recent days as expected, we have not seen as many cases of Legionnaires' as we did at the peak of the outbreak, and this continues to offer reassurance that the outbreak remains under control.
Dr Richard Othieno, consultant in public health medicine, NHS Lothian, said: "While this is the first new case in more than a week, it is not unexpected.
"As the outbreak draws to a close we can expect to see a small number of cases coming forward who have experienced mild symptoms initially and have sought medical attention later in their illness."