Edinburgh Zoo plans for £750,000 penguin colony pool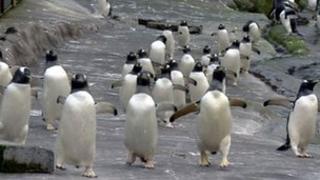 Edinburgh Zoo is planning to house its penguin colony in a new £750,000 enclosure.
Over the past 100 years it has gained a reputation for its breeding success but the colony was split up earlier this year when their pool sprang a leak.
Many of the 160 birds went to other zoos in Belfast, Denmark and England, with some remaining in Edinburgh.
The Royal Zoological Society of Scotland is now campaigning to raise the last £100,000 for the new pool.
Plans include diving boards, water slides and a beach for the penguins, with a better view for visitors.
Meanwhile, interim chief executive Hugh Roberts has told BBC Scotland he believes the zoo is on a much firmer footing than before it secured its two pandas, Tian Tian and Yang Guang.
Mr Roberts said: "The real problem here was perhaps that people had lost trust and for me it was about rebuilding and regaining that trust."
He added: "The fundamental thing about the pandas was never really in doubt, the Chinese don't enter into long-term arrangements and then throw them overboard just because one or two things are not going so well.
"The UK government, the Scottish government weren't going to let that all happen, we certainly weren't going to let it happen, so I never had any doubt that was about making it happen."
Mr Roberts hands over to new chief executive Prof Chris West next week.