Edinburgh trams: Recruitment gets under way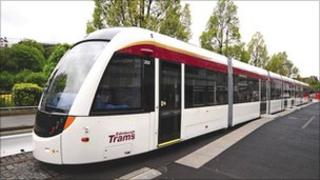 The drive to recruit front-line staff for Edinburgh Trams has got under way.
A general manager is being sought, who will have responsibility for overseeing the appointment and induction programme of front-line staff.
Lothian Buses said it was also looking for 10 tram drivers and controllers, who should be trained by 9 December.
The current timetable indicates that trams should be in service in 2014. Princes Street reopened to buses and taxis on Saturday following tram works.
Lothian Buses managing director Ian Craig said the company was continuing to provide management support and resource for "an evolving operational and technical team that will ultimately be employed by Edinburgh Trams".