Edinburgh International Film Festival award winners unveiled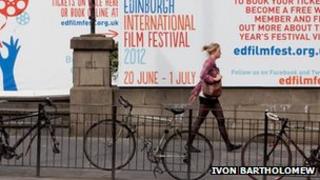 The winners of the Edinburgh International Film Festival awards have been announced as the 66th event draws to a close.
The award for best international film was won by Here, Then, by Chinese director Mao Mao.
Director Penny Woolcock received the Michael Powell Award for best British film for One Mile Away.
The festival came to end on Saturday with the European premiere of Disney-Pixar animation Brave.
The awards honour the best films, actors and directors of the 12-day festival.
Here, Then, explores themes of alienation and disillusionment in modern China, telling the story of different people whose lives overlap.
One Mile Away, which had its world premiere in Edinburgh, follows the attempted reconciliation of two Birmingham gangs.
The Michael Powell Award was presented by actor Jim Broadbent, who was joined by Japanese actress and producer Kiki Sugino and the founder and director of Tallinn Black Nights Film Festival, Tiina Lokk.
The jury citation said it was "a brave and honest film tackling a huge problem with sensitivity and skill".
Ms Woolcock said: "One Mile Away is about transforming and saving lives.
"Winning the Michael Powell award is a tremendous boost for us to help get the film and its message out to where it needs to be in our inner cities."
In the shorts category, Brazilian film Dinosaur Eggs in the Living Room by Rafael Urban scooped first place.
Director Will Anderson picked up the best British short film award and the McLaren Award for new British animation for his film The Making of Longbird.
Andrea Riseborough and Brid Brennan jointly won awards for best performance in a British feature film for their performances in James Marsh's Shadow Dancer.
Stars of the Scottish screen were on the red carpet in the capital for the screening of Brave which is set in the mythical medieval Highlands of Scotland.
The film, which topped the US box office chart last weekend, tells the story of headstrong princess Merida, voiced by Kelly Macdonald, who defies an age-old custom and causes chaos in the kingdom.
Other stars include Billy Connolly, Robbie Coltrane, Kevin McKidd and Craig Ferguson.