St John's Hospital children's ward closed for three weeks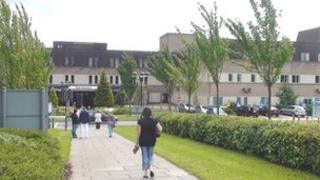 A West Lothian hospital has said it will not admit patients to its children's ward for three weeks during the summer because of a staff shortage.
The ward in St John's Hospital in Livingston will still assess patients on weekdays but transfer children to Edinburgh if they need to be admitted.
NHS Lothian said the decision was "not taken lightly".
West Lothian Council has branded the move a "betrayal" of local families and children.
Health Secretary Nicola Sturgeon said she was satisfied the closure was a temporary one which had nothing to do with money or resources, but was a last resort to protect children's safety.
Trainee paediatric doctors were removed from the hospital in April, reducing doctors available for out-of-hours cover.
Shifts have been covered since then using the existing team and locum doctors.
The health board said it was not possible to secure enough staff for the three-week period.
From 9 July the ward will open Monday to Friday from 08:00 to 20:00 as an assessment and programmed investigation unit but will close at weekends.
Temporary measure
Arrangements are being made for transferring children to the Royal Hospital for Sick Children in Edinburgh if they need to be admitted following assessment or if they become ill during opening hours.
There are no changes to maternity and neonatal services at the hospital.
Dr David Farquharson, medical director at NHS Lothian, said: "The provision of a safe service for children, mothers and babies is our top priority and we will not compromise that safety in any way. This is a temporary measure and the decision has not been taken lightly.
"Since the trainees were withdrawn in April we have relied heavily on the goodwill of those working in children's services and on the ability to secure locum doctors at short notice.
"We have exhausted all options in trying to arrange the same level of cover in July but as this is the peak holiday season, we have been unable to reassure ourselves that we would be able to provide a safe and effective service for the children's ward and maternity services at St John's over this three-week period."
The ward will return to a 24-hour, seven-day-a-week service in August.
'Breaking point'
Leader of West Lothian Council John McGinty said the situation was not acceptable.
He said: "I think the trust has had some considerable time to resolve this problem, we see this a betrayal of local families and West Lothian children, we think these services should be provided from St John's."
Mr McGinty added: "It's hardly a surprise that people want to take their holidays in July."
Former consultant at St John's, and Scottish Labour's health spokesman, Richard Simpson said: "This is not the fault of hard working staff. The SNP is creating an environment in the health service that risks these practices becoming more likely by imposing deep cuts to staffing levels, resulting in staffing levels on the ground being thin."
Scottish Conservative health spokesman Jackson Carlaw branded the move "unacceptable".
"That one of Scotland's premier health boards can only provide seasonal care for children is a situation that the cabinet secretary must remedy without delay," he added.
The Scottish Liberal Democrats questioned why staffing had been allowed to reach "breaking point".
Health spokeswoman Alison McInnes said: "Parents deserve to have faith that St John's is operating at world class levels, and not surviving from day to day."
The Royal College of Nursing (RCN) Scotland said that removing trainee doctors without ensuring adequate cover had been short-sighted.
The RCN's Theresa Fyffe said: "Decisions like this indicate how the NHS workforce is stretched to breaking point, which is bad news for families and children in West Lothian, as well as our members, many of whom are already worried about the future of the children's ward."