Edinburgh Legionnaires' outbreak: Cooling towers 'likely' source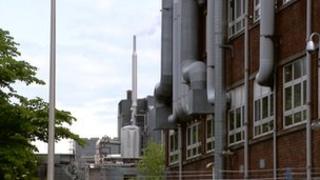 Initial tests on cooling towers at the centre of the Legionnaires' outbreak in Edinburgh have proved inconclusive.
But the latest update from NHS Lothian confirmed the source is most likely to be from industrial sites in Wheatfield Road in the south west of the city.
The most common type of Legionella bacterium, Legionella pneumophila serogroup1, has been identified as the cause of infection in patients.
The number of confirmed cases now stands at 47, with 46 suspected.
Two people have died during the outbreak.
One person is now being treated in intensive care, and a further 17 are on general hospital wards.
The incident management team (IMT) set up when the first cases emerged earlier this month said it has being carrying out a three-strand investigation - looking at the type of Legionella bacterium involved and the location of possible sources and weather patterns, and analysing the environmental samples taken from the potential sources.
The team has concluded there was a common outdoor, airborne exposure to the Legionella bacterium over south west Edinburgh which probably started about 23 May.
It said the evidence also suggested that the source of the exposure "is most likely to have been the cluster of cooling towers in Wheatfield Road".
After extensive testing, the team found no current microbiological evidence to positively confirm the presence of Legionella pneumophila in any of the samples taken from any of the potential sources. Further analysis of these samples is on-going.
Dr Duncan McCormick, public health consultant with NHS Lothian, said: "The IMT took immediate action on Sunday 3 June, when a cluster of cases was identified, to ensure cooling towers in the area were treated with high doses of chemical disinfectant.
"Our investigation into the outbreak is on-going and it is reassuring that the number of people who have been confirmed as having Legionnaires' disease has slowed over the past week in line with our expectations."
Health Secretary Nicola Sturgeon added: "As well as the efforts being made by health service staff, a tremendous amount of work by the Health and Safety Executive and the City of Edinburgh Council has taken place to identify and deal with the source of the outbreak.
"This investigation is continuing but the progress made to date, and reported in the latest meeting of the Incident Management Team, is encouraging."