Scotland player Garry O'Connor found guilty in drug case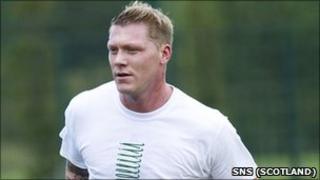 Scotland and former Hibs footballer Garry O'Connor has been found guilty of possessing cocaine and obstructing police.
Edinburgh Sheriff Court heard that he was approached by police in the city on 14 May 2011 after they spotted him snorting drugs in the back of a car.
However, he fled police after giving them a false name, only to be caught a few hundred metres away.
Sentence on O'Connor has been delayed for background reports until 29 June.
The case came on the same day O'Connor's contract with Edinburgh club Hibernian FC came to an end. He is now understood to be unemployed and looking for a new team.
The city's sheriff court was told that the 29-year-old former Birmingham City player tried to con officers on the night of his arrest by telling them his name was Johnstone.
But the Scottish international spelled the name "J-O-S". He then pushed PC Katherine Eager aside and ran away.
He was stopped by one of her colleagues just 300m from the Land Rover where officers had seen him taking the drugs and found to have cocaine with a street value of £450.
O'Connor's solicitor, Liam O'Donnell, had argued his client should be acquitted of the charges because he thought the footballer was arrested illegally.
However, Sheriff Derrick McIntyre disagreed and found O'Connor guilty.
He said: "I have considered the evidence which came from the two police officers which I found to be entirely credible and reliable.
"I have no problem believing them. Consequently, I find the accused guilty on the two charges."
Previous convictions
The conviction came on the second day of proceedings. O'Connor, of Dirleton, East Lothian, had denied resisting arrest and possessing cocaine in May 2011.
After hearing evidence, Sheriff McIntyre changed the resisting arrest charge to a charge of obstructing police from performing their duties.
After conviction, Mr O'Donnell told the court that his client's contract with Hibs had come to an end earlier on Friday.
The court also heard that O'Connor had two previous convictions for road traffic offences.
Asking that O'Connor be fined, Mr O'Donnell said: "I am asking your lordship to deal with this by way of financial penalty.
"He is a professional footballer. His contract with Hibernian expired today. He is looking for a new club."