Chariots of Fire legacy keeps on running in St Andrews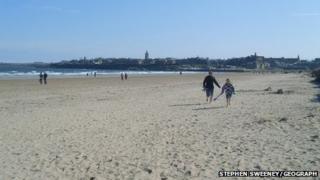 Chariots of Fire is being released in cinemas and on Blu-Ray in July in time for the Olympics. The Department of Film Studies at the University of St Andrews has been looking at the 1981 film's legacy in the Fife town.
"It is pretty hard not to walk along the beach without hearing Vangelis' music going through your head," said Dr Tom Rice, a lecturer in film studies.
West Sands in St Andrews was used to portray Broadstairs in Kent for one of the best-known scenes in Chariots of Fire.
Athletes are seen running barefoot on wet sand as waves break close by.
The action plays out to musician Vangelis' famous score.
Dr Rice said: "Unfortunately, I am not quite fit enough to run the whole beach and recreate the scene without passing out half way along.
"But you do see people trying to recreate it and that always makes me laugh."
Chariots of Fire tells the story of runners Harold Abrahams, a Jew, and Edinburgh-born Christian Eric Liddell and the 1924 Paris Olympics.
More than 30 years after it was first shown, the film will be re-released in cinemas on 13 July.
For financial reasons, the film's production pitched up in St Andrews to shoot scenes which in the feature were said to be Kent.
The crew had been in Edinburgh and going to the Fife town was a cheaper option than hauling the production to the south of England.
As well as West Sands, St Andrews Golf Course's 18th hole was used for scenes said to be outside the Carlton Hotel in Broadstairs.
Film magazine, Empire, quotes Ben Cross, who played Abrahams in the movie, describing the beach run as "hell".
In the interview in the newly-published issue, Cross said: "I felt like I was the only one having a hard time. Maybe we were all dying.
"Running through sand and water is the worst thing you can do. But what a beautiful sequence."
After several takes, the footage was deemed to be unusable.
According to Empire, a scratch on a camera lens that could be seen in the rushes allowed the crew to claim insurance and fund a second fresh day of filming.
University of St Andrews' Department of Film Studies has been exploring the town's local history of film audiences, societies and productions.
Dr Rice said: "Obviously the most famous of these productions is Chariots of Fire.
"We have been looking into both the production, but also its legacies in the town."
Its impact has included names for hotel rooms and bars, a plaque at the beach and countless people recreating the running scene on its sand.
But Dr Rice added: "Looking at newspapers at the time in St Andrews, it was not universally popular having a film crew coming to the town.
"There were letters of complaints in the local paper about traffic being delayed for 10 minutes on some of the roads because of the film crew.
"There were even council discussions about it.
"Initially, it was seen to be this brief interruption to daily life.
"Today, people realise that it would become this iconic scene that is known internationally."
The film's producer David Puttnam gave Dr Rice an example of the pride Scots have in Chariots of Fire's close connections with Scotland.
Dr Rice said: "He saw the film once with Sean Connery and Connery tapped him on the shoulder and told him in no uncertain terms: 'that's not the Carlton Hotel, that's St Andrews'."