Forth Bridge to bid for Unesco world heritage status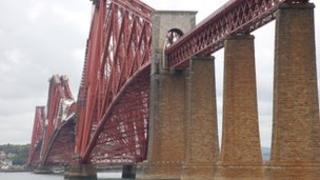 The Forth Bridge has come a step closer to being designated as a world heritage site.
The railway bridge is one of two UK sites which have been chosen to put forward nominations to Unesco.
The Forth Bridges Forum will now prepare a bid for consideration in 2014, with a decision expected the following year.
An application will be submitted in 2015 by the Gorham's Cave Complex in Gibraltar.
A tentative list of 11 possible heritage sites in the UK was submitted to Unesco earlier this year.
Four locations felt they were able to go ahead with their bids straight away, and their proposals were assessed by an independent expert group.
That group recommended that the bids by the Forth Bridge and Gorham's Cave Complex should go first and second.
'Scottish icon'
Once the bids are submitted, they will undergo what has been termed ''a demanding 18 month process of scrutiny and evaluation'' by Unesco and its advisory body, the International Council on Monuments and Sites.
Scottish Culture Secretary Fiona Hyslop said: "The Forth Bridge is a Scottish icon that is recognised the world over.
"We are extremely excited that we have the opportunity to make the case for the bridge being inscribed as Scotland's sixth World Heritage Site."
She said that if successful, it would be a "tremendous accolade".
Scottish Secretary Michael Moore said the bridge was "a huge feat of Scottish engineering skill".
He added: "It was nominated for Unesco World Heritage Status by the UK Government last year, and the fact it has topped the list and can now take its bid forward is good news for Scotland."
The nomination will be worked on by the Forth Bridges Forum, which includes representatives from Historic Scotland, bridge owners Network Rail, Transport Scotland, the Forth Estuary Transport Authority, Fife Council and Edinburgh City Council.
David Simpson, route managing director for Network Rail Scotland, said: "The Forth Bridge is one of the most recognisable bridges anywhere in the world and certainly the most cherished Scottish structure of the Victorian era.
"The bridge has become a source of pride and a symbol of Scotland's resilience and ingenuity, but we must never lose sight of the fact that it is first and foremost a working structure which still carries over 200 trains a day.
"This nomination should be regarded as a further tribute to the thousands of men who have contributed to building, maintaining and restoring the structure over the last 130 years."