Scholars study literary merits of Harry Potter novels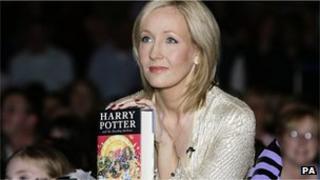 More than 60 academics from across the world are gathering in Scotland to examine the literary merits of the Harry Potter novels.
Scholars will discuss the JK Rowling books over the next two days, with 50 lectures on the boy wizard scheduled at the University of St Andrews.
Topics include the role of paganism, British national identity and how death is dealt with in the book series.
An anthology based on the conference is planned for publication in 2013.
The conference has been organised by John Patrick Pazdziora from the University's School of English and Father Micah Snell from the University's Institute for Theology, Imagination and the Arts (ITIA).
Scottish roots
Mr Pazdziora said: "We can't avoid the fact that Harry Potter is the main narrative experience of an entire generation - the children who literally grew up with Harry Potter.
"The Harry Potter novels are simply the most important and influential children's books of the late-20th and early 21st Centuries."
He added: "For very many people, this is their first experience of literature, and of literary art. So they want to think about it, and analyse it, and talk about it."
The keynote speaker for the event - which is entitled A Brand of Fictional Magic: Reading Harry Potter as Literature - is John Granger, author of The Deathly Hallows Lectures.
Mr Granger said: "I take exception to the unexamined and misinformed assumption that the books are 'light on literary merit'.
"Ms Rowling's works are comic, certainly, but it's a great mistake to think they're simple or haphazard story-telling."
He added: "Hogwarts, we're told, is hidden somewhere in Scotland, the author lives here, too, and Ms Rowling's mother was half Scot.
"It's somehow appropriate and fitting that the first academic conference of any size be held at Scotland's oldest university, St Andrews."