Cargo bike hits Edinburgh streets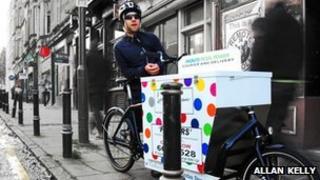 Could pedal power be the answer for companies struggling to deliver their goods in the congested streets of Scotland's cities? One young Edinburgh entrepreneur believes so.
Neil Bon, of Pronto Pedal Power, has turned his back on a promising law career to run his own cargo bike business and is already winning custom from companies which want to save time, money and reduce pollution too.
Cargo bikes, which are specially designed to carry large and bulky items, are already a common sight in Denmark and the Netherlands.
They are increasing in popularity elsewhere on the continent but are still a rarity on Scotland's streets.
Mr Bon believes that could be about to change, as businesses realise cargo bikes have important advantages over the ubiquitous white delivery van.
He told me: "It's primarily about cost. But a lot of companies are looking to reduce their environmental impact, so it's about that too. And, of course, we can make deliveries more quickly than vans in the city centre."
Cycle logistics
Mr Bon said cargo bike delivery riders should not be confused with traditional cycle couriers, with a light bag of documents slung across their backs.
"Capacity is the most important difference," he said. "We can transport about 150kg of goods. We carry documents, cheese, wine, a whole range of goods. We'll carry anything that can fit in the box.
"It's a bit like an old butcher's bike."
Dr Randall Rzewnicki, of the European Cyclists' Federation in Brussels, is an expert in cycle logistics.
He said the Danish capital, Copenhagen, demonstrates how cargo bikes can be used to reduce the number of journeys made by cars and vans in city centres.
"In Copenhagen, for example, one in every four families with children has a cargo bike," he said.
"But they don't just use them to move kids.
"They're using them to move everything, including Christmas trees, their weekly shopping and even to move house.
"In Holland it's pretty much the same story."
Low running costs
In some parts of the world, multinational logistics companies have begun using cargo bikes for deliveries in urban areas and Dr Rzewnicki believes environmental benefits are not the only attraction.
Dr Rzewnicki said: "I don't think that's why TNT, DHL and other big companies are doing it. I'm sure they like the efficiency, the service speed, the low running costs.
"Maybe they just think it's the best way to get the job done."
Linda Urquhart, the chairman of the Edinburgh law firm Morton Fraser, said: "We're tested regularly by prospective clients on whether we're environmentally friendly.
"When we're tendering for work, one of the things we're asked for is our environmental credentials.
"But it makes sense for us to use Neil not just from an environmental perspective, but from a business perspective too because he's cheaper, faster and greener."
Simon Lloyd, of the specialist French delicatessen Henri, said: "We deliver to a lot of the top restaurants in the city and we used to find it a real strain.
"We would lose a member of staff who would spend hours struggling round Edinburgh in the van.
"Then Neil came along, pitched for the business and it works fantastically for us. We're using our van a lot less."