Alcohol ban on Scottish cup final trains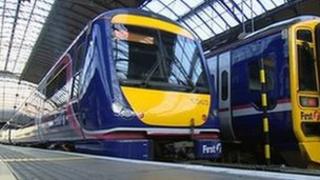 An alcohol ban has been put on all trains between Edinburgh Glasgow during peak times football fans will be travelling to the Scottish cup final.
Opposing fans will also be sent home from the match on separate trains.
The supporters of the winning team will travel on the service via Airdrie and Bathgate with the losing team's fans going home via Falkirk High.
ScotRail will provide 11,000 seats on trains for the final between Hibs and Hearts on Saturday 19 May.
More than 50 trains, on three routes to and from Glasgow, will have additional carriages.
ScotRail will also run longer trains at Glasgow Central to and from Mount Florida and Kings Park stations, which both serve Hampden Park.
'Great day out'
Steve Montgomery, ScotRail's managing director, said: "We are ready to welcome thousands of extra passengers on board for what is an extraordinary occasion.
"Our plans ensure that we will accommodate as many fans as possible. We want them to have a great day out at Hampden, the first time the teams have met in a Scottish Cup Final since 1896."
Chief Superintendent Ellie Bird, area commander for the Scotland area of the British Transport Police, said: "British Transport Police will have additional resources across the rail network to reassure those travelling to the match, or not.
"BTP has planned meticulously with our rail industry partners and police colleagues to make sure the day is as memorable as it promises to be, and other passengers, who may not be going to Hampden, and rail staff are not disrupted or inconvenienced."