Colin Firth 'overwhelmed' by Scot's film story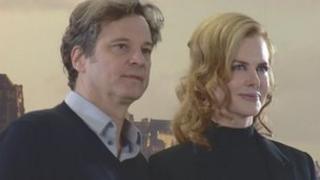 Actor Colin Firth has said he felt "a little overwhelmed" by the enormity of the story to be told in his latest film The Railway Man.
Shooting for the movie begins in Scotland on Monday.
The Oscar winner plays Eric Lomax, a Scot haunted by memories of being a prisoner forced to work on the construction of the Thai/Burma railway during World War II.
Filming will take place in locations including Edinburgh and North Berwick.
The cast and crew will later move to Thailand and Queensland, Australia.
Actress Nicole Kidman plays the role of Patti who tries to help Lomax.
Firth has met Eric and Patti Lomax twice, and said the meetings helped prepare him for the role.
He said: "They are both incredibly engaging and made me feel very welcome.
"I found them both a delight, though I did feel at times a little overwhelmed by the enormity of the story.
"It was important to me to meet them, it focused me and it was something that was very sobering, but also the story is such a big one and about a generation prior to my own, it can feel a bit abstract, a little bit out of reach, but to meet Eric personalised it and humanised it."
Firth suggested the character is a man who does not know where he is going as he deals with the emotional fall-out of his wartime experience.
He said: "He is looking for a way home that might be represented by Patti."
Teenage trip
Kidman is "polishing" her English accent to take on the role of Patti, and plans to meet her during shooting as she has not yet done so.
The Oscar winner is looking forward to rediscovering Scotland and Edinburgh during the shoot, having visited the country as a teenager.
She said: "I did a road trip with a boyfriend when I was 18, so it has been a while, but I went all the way up to Ullapool.
"The great thing about being an actress is you get to live in a city for a certain amount of time, so that's what I look forward to.
"I've heard there's some great restaurants, so I will be out and about, though we're working six days a week."
The film also features War Horse star Jeremy Irvine, Stellan Skarsgard, of The Girl With The Dragon Tattoo, and Japanese star Hiroyuki Sanada.