Transplant driver Andy Thomson found guilty of speeding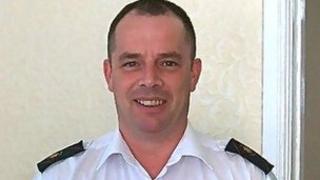 A transplant ambulance driver has been found guilty of speeding while travelling from Edinburgh with a human organ on board.
Andy Thomson, 46, from Blyth in Northumberland, got three penalty points and a £60 fine.
He was taking a child's liver from the Royal Hospital for Sick Children in Edinburgh to St James University Hospital in Leeds.
Haddington Sheriff Court heard the incident happened on 8 October 2011.
Mr Thomson was asked by the transplant surgeon to use the marked ambulance's blue lights and sirens to get the liver to Leeds as quickly as possible.
Travelling south on the A1, Mr Thomson triggered a speed camera at Gladsmuir in East Lothian going 84mph, 14mph above the speed limit for the road.
Mr Thomson said: "I was aware of the speed camera flashing as I passed but wasn't really that concerned as I knew my speed was anything but excessive for the nature of the task.
"The good news was that I was able to deliver the organ to the hospital in Leeds in time for a successful transplant to take place later that day."
Exemption issue
His employers contacted the police but were told they did not consider the vehicle, a marked ambulance, as being exempt from normal speed laws.
In other parts of Scotland drivers of private ambulance vehicles, when being used for emergencies, such as transporting donor organs, submit a section 87 exemption.
The exemption allows drivers to exceed the speed limit.
Mr Thomson said: "Lothian and Borders Police have made it very clear that they will not accept a section 87 exemption from private ambulance operators, despite the fact that the exemption is only ever used in emergency situations when we are working under contract to NHS Blood and Transplant."
Procurator fiscal
A spokesperson for the Department of Transport in London said: "Existing laws exempt vehicles from speed limits if they are being used for ambulance purposes and where exceeding the speed limit is necessary for those purposes."
The Crown Office said: "Ultimately it is for the procurator fiscal to determine whether it is in the public interest to take action by taking the circumstances of the individual journey into account.
"We can readily accept that in some cases where the purpose of the journey is the swift delivery of transplant organs then it will not be in the public interest to take proceedings for a speeding offence."
A Lothian and Borders Police spokesman said: "We work closely with the NHS to establish the authenticity and credibility of any agency claiming to be carrying out work on their behalf when caught speeding.
"The decision to prosecute a driver for any motoring offence is made by the procurator fiscal."