Eating disorders memorial service held in Edinburgh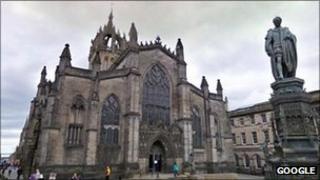 A memorial service has been held in Edinburgh for people whose lives have been lost to an eating disorder.
The event at St Giles' Cathedral was organised by the Scottish Eating Disorder Interest Group (SEDIG).
Speakers included MSP Dennis Robertson's daughter Fiona, whose twin sister Caroline died from anorexia a year ago, at the age of 18.
Candles were lit and a book of remembrance was created at the special service.
Last month, Mr Robertson, who represents Aberdeenshire West, led a members' debate on the subject at Holyrood.
He called for greater awareness among GPs and medical professionals to enable sufferers to be diagnosed and treated earlier.
Fiona Robertson, twin sister of Caroline, told the service: "The smiles and the laughter, the love and the unbreakable bond that we shared, together as one - us against the world - our journey, our first day at school, arguments over clothes and belongings."
Dr Jane Morris, who chairs SEDIG, said: "Eating Disorders isolate sufferers and families in life. Bereavement can feel like a lonely and shameful secret for families, carers and professionals too.
"It was comforting and powerful to acknowledge that these beloved people were killed by a cruel illness which must be fought."