How surveillance society solved a murder with no body
Two years ago, Suzanne Pilley disappeared on her way to work in the centre of Edinburgh. Her body was never discovered but her killer was convicted last month after his movements were traced by a range of surveillance devices. On Wednesday, David Gilroy was sentenced to a minimum of 18 years before he can apply for parole.
CCTV footage, mobile phone records, emails, shop receipts - our everyday routine leaves an "electronic footprint".
David Gilroy went to great lengths to cover his tracks after he killed Suzanne Pilley in May 2010.
But an extraordinary police investigation tracked his movements in the smallest of detail.
CCTV footage from a supermarket two days before Suzanne's disappearance shows the pair buying groceries for a meal near her flat.
What looks on the screen to be an unremarkable domestic scene is in fact his last desperate attempt to resurrect the relationship.
Gilroy, a married man, had been having a secret relationship with his work colleague for about a year but she had been trying to end it.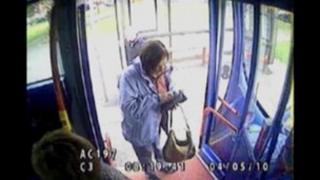 That night they had a massive row and two days later he killed her.
At 08:19 on Tuesday 4 May, Suzanne's final commute to work was captured by CCTV cameras which track virtually every bus passenger in the Scottish capital.
She had spent the night with a new man whom she had recently met.
Suzanne got off the bus at 08:49 and was picked up by other CCTV cameras as she walked the last part of her journey to work.
She was seen going into a supermarket before she finally disappeared from view.
Specialist CCTV analysts looked at images from 84 cameras in the area and built up a case that a tiny image of Suzanne could be seen from a distant camera as she entered her work.
Gilroy had spent the previous few weeks besieging her with numerous texts and voicemails, desperate to continue their relationship.
Police were able to recover everything left on her phone, even though the phone itself has never been found.
Gilroy knew there were no CCTV cameras at the place where he and Pilley worked.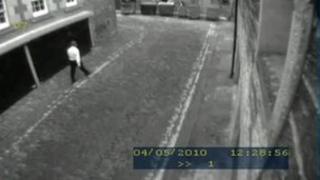 However, CCTV cameras on properties outside the building show him going in and out of the basement garage.
The man who quickly became a suspect had arrived at work by bus but later made excuses to go home and collect his car.
Later he was caught by CCTV having just bought four air fresheners.
Police believe Gilroy lured Suzanne to the basement and killed her.
He then hid her body in a stairwell before later transferring it to the boot of his car.
Specialist cadaver dogs were used to search the basement and garage of the building.
They found areas of interest but no DNA or forensics.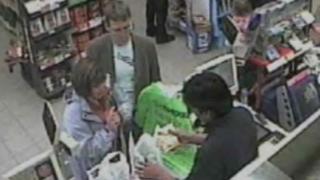 Before Gilroy went home he went to his computer and arranged an appointment which would require him to drive about 130 miles to Lochgilphead in rural Argyll the next day.
The killer then went home and acted naturally.
CCTV images even caught him attending a school concert and a restaurant that evening.
Police reconstructed Gilroy's trip to Argyll on 5 May through CCTV at various places along the route, such as when he stopped for petrol.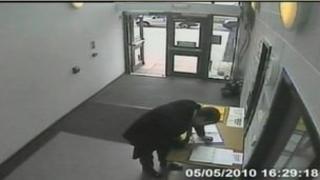 Officers had to trawl for CCTV footage from hundreds of cameras - not just on the main route to Lochgilphead but surrounding roads as well.
It was a route Gilroy took regularly but on this occasion he went much further north than the direct route and police were suspicious.
Gilroy's mobile phone was later seized by police, along with his car.
Experts found that the phone had been switched off between Stirling and Inveraray and the same on the way back.
Police suspected Gilroy had deliberately switched his phone off to conceal his movements while he did a "reccy" for a site to dispose of Suzanne's body. He repeated this on his way back when he actually buried the body.
But Gilroy did not realise that his car would provide more clues that he had been driving along rough forest tracks.
Damage to the suspension, scrape marks on the underside of the car and vegetation attached to the car were all clues of his off-road activities.
Police reckoned that the average time for the journey between Tyndrum and Inveraray was 36 minutes.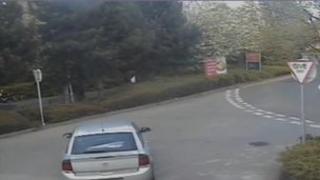 CCTV analysis of the time taken by Gilroy indicated that he took five hours and eight minutes.
Footage from CCTV also showed that an umbrella on the back parcel shelf of his car, probably put there when Suzanne's body was placed in the boot, disappeared from view on the return journey, having been placed back in the boot.
Despite extensive searches, Suzanne's body was never found.
However, due to the cumulative evidence built up in the police investigation, Gilroy was convicted at the High Court in Edinburgh last month.
On Wednesday, he was given a life sentence with a minimum of 18 years before he can apply for parole.
Suzanne Pilley: The Woman Who Vanished will be shown on BBC One Scotland on Wednesday 18 April at 22:45.