Huge Joe Caslin artwork of teenage hoody appears in Edinburgh street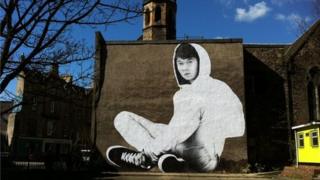 A three storey-high image of a teenager has appeared on the side of an Edinburgh building.
It is the first in a series of street art that will materialise in the capital over the next 10 days.
The 40ft image of the hoody-wearing teenage boy is the first part of Our Nation's Sons, a project by Edinburgh College of Art student Joe Caslin.
The remaining works will appear in secret locations around the city for the next 10 days.
The art work has appeared on the gable end of 20 Cowgate.
Our Nation's Sons features drawings of hoody-wearing teenage boys, some from St Thomas of Aquinas High School.
The project is also supported by the Lothian and Borders Police safer neighbourhood team and Edinburgh City Council's city centre neighbourhood partnership.
Mr Caslin said: "These drawings of young men will be used as a tool to re-establish young men as legitimate participants within today's society by giving them a voice and a tangible presence within our city.
"Community cohesion and participation is fundamental to the project."