Council officials in Edinburgh face new claims of corruption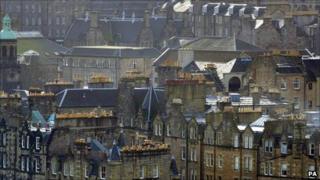 Further details about allegations of corruption at the City of Edinburgh Council have been passed to the BBC.
A year-long investigation of departments handling property repairs has been carried out by police and independent auditors.
Information passed to the BBC suggests malpractice by officials was more widespread than originally thought.
The council has said it will report on the investigation it commissioned in the next three months.
One former employee of a department not linked to the original investigation said: "I'm absolutely convinced that kickbacks were involved. Holidays, booze, upgrading their cars.
"Some of the guys were shady. Meetings would take place around their cars outside instead of in the office.
"Jobs would be signed off as completed… the contractors would be paid… but a school janitor or a care home would call up to say it hadn't been done at all or had been done badly."
Procurator fiscal
The BBC has been told two people have been sacked in the property conservation department, where concerns were first sparked.
Other staff have denied corruption was widespread, or existed at all.
One said: "The property conservation department is the victim of a smear campaign by contractors and the council itself.
"I did nothing wrong. I never allocated work without the boss knowing about it.
"There is no fraud or corruption whatsoever in our department and I want to see the report into the investigation published in full so we can be cleared of any wrongdoing."
The police will be sending a report to the procurator fiscal shortly.
Edinburgh City Council said it could not comment on the specific allegations but its aim was to restore confidence in an important system for ensuring the quality of the city's housing and built heritage.