Edinburgh GP Andrew Murray wins North Pole marathon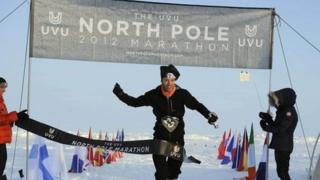 A GP from Edinburgh, who is also Scotland's physical activity champion, has won the gruelling North Pole marathon.
Dr Andrew Murray faced temperatures of minus 27C, running over snow and ice, to win the Arctic challenge with a time of four hours, 17 minutes.
A total of 41 competitors, from more than 18 countries, took part.
Dr Murray is the first British winner of the event which is now in its 10th year.
Dr Murray said: "Running at the North Pole is an experience of a lifetime. Your feet sink into the snow with every step and you need to protect yourself from the cold. But it's worth it, the landscape is amazing, and it was fantastic to see every single runner finish."
Earlier this year, Dr Murray was tasked by the Scottish government with promoting the importance of physical activity. He said he hoped his achievement would encourage others to get active.
He said: "The message to get active is so important, we are taking it to the ends of the earth. I'd urge everyone to do a bit more walking, or whatever form of physical activity suits them - everything counts."
Dr Murray, who was also the race doctor for this year's North Pole marathon, completed a 3,000-mile run from John O'Groats to the Sahara Desert in Morocco last year.
He also ran the North Pole marathon in 2007, coming fourth.
Spain's Luis Alonso Marcos was second in this year's race with a time of four hours, 19 minutes, while Demelza Farr from Australia won the women's race in six hours, six minutes.