Edinburgh mother accused of running brothel in New York loses bail bid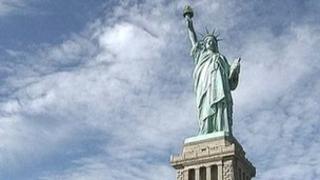 A Scottish woman suspected of being a madam in a North American brothel has lost a fresh bid to be released from jail on reduced bail.
Anna Gristina, 44, who is originally from Edinburgh, was arrested on 22 February and faces up to seven years in prison if convicted.
Prosecutors say she is a multi-million dollar madam who boasted of wealthy clients and links to law enforcement.
Ms Gristina, who now lives in New York, has pleaded not guilty to the charges.
She is being held in Rikers Island prison after failing to post the $1m in cash (£630,000) or $2m (£1.3m) insurance bond needed for her release.
In a Manhattan court, the mother-of-four's lawyer failed to get that sum reduced, resulting in her being returned to prison.
'Squirreled away'
It is claimed Ms Gristina set up a high-end call girl service operating out of an apartment in New York's Upper East Side.
Over a period of 15 years, the alleged brothel boss is said to have arranged for wealthy clients to meet up with prostitutes, who charged up to $1,500 (£940) for their services.
Prosecutors claim that in the process, she amassed a fortune of $15m (£9.4m) in personal profit, much of which they say has been "squirreled away".
At previous bail hearings, prosecutors argued that the cash, combined with a contacts book containing the names of rich and powerful clients, made her a flight risk.
But defence lawyers have dismissed the claim, saying the alleged New York madam does not have "two nickels to rub together".
A judge upheld the bail conditions set at an earlier hearing.