Portobello parents urge protest group to abandon school appeal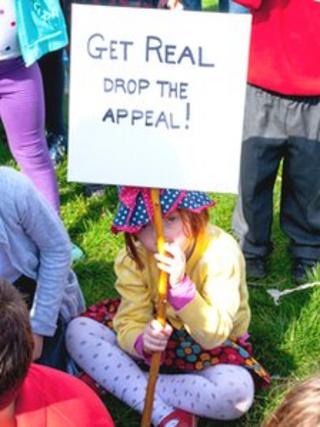 More than 900 people have signed a petition calling for a local protest group to drop its appeal against plans for a new high school in Edinburgh.
Portobello Park Action Group (PPAG) does not want a new Portobello High School built in ground at Milton Road.
The group went to court in March in an attempt to halt the plans, but their bid failed when the judge ruled that the petition had arrived too late.
Edinburgh City Council now says it intends to sue PPAG for £75,000 costs.
Parents who want the new school to go ahead have formed Portobello for a New School (PFANS).
They said they had been waiting six years for the project to start and believe the PPAG's "delay tactics" could hold up the school opening by a further two years by forcing the council to re-tender the contract.
PFANS said the Scottish government would soon be releasing new funds for which councils could bid, but that Edinburgh City Council may not be eligible to apply if Portobello High School does not go ahead soon.
Sean Watters, of PFANS, said: "This is now a matter of concern for every parent in Edinburgh.
"An appeal by PPAG won't just delay Portobello High School, it could delay desperately needed work to improve other schools across Edinburgh, including St John's, St Crispin's and Boroughmuir.
"And keeping the existing high school safe and functioning is also costing the council millions."
He added that local children and their teachers were suffering the consequences of having a school which was not fit for purpose.
Jennifer Peters, a Portobello Park Action Group member, said: "The case for protecting our green space is not and has never been about stopping the building of a much needed new school.
"It has always been about recognising the benefits offered by green space and saving valuable park land for current and future generations.
"There are brown field sites in the area that are suitable for a new school that won't lead to a loss of green space and we urge the council to reconsider these valid alternatives.
"The precedent set by this legal decision as it stands will have a resounding effect. Councils now have a green light to sell off or develop Scottish park land/common good land without fear of reprisal and irrespective of public opinion."