Work on Forth Road Bridge ends early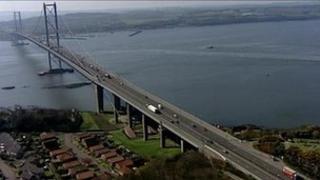 Work to remove an access cradle on the Forth Road Bridge has been completed ahead of schedule.
Drivers had been warned of delays on the bridge over the weekend while the cradle used in recent emergency repairs was removed.
The cradle was used during works two weeks ago, to replace two large bolts near the top of the north tower.
It had to be removed in daylight for safety reasons. However, the work was completed early.
A spokesman for the Forth Road Bridge said contraflows planned until lunchtime on Saturday and Sunday had now been cancelled.
Officials had expected "long delays in both directions".