Edinburgh Zoo pandas: Tian Tian 'ready to mate next week'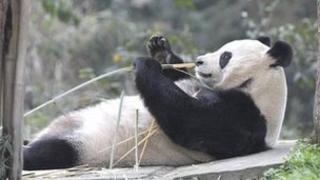 The female panda at Edinburgh Zoo will be ready to mate by next week, officials have predicted.
Experts at the zoo said they had recorded the first increase in Tian Tian's oestrogen and a dip in her progesterone.
The zoo said this meant it could predict that she would be ready to mate on Tuesday or Wednesday.
Female pandas ovulate just once a year, with a narrow window of only 36 hours in which they can get pregnant.
Same enclosure
Iain Valentine, Edinburgh Zoo's director of research and conservation, said: "We've seen behavioural changes in Tian Tian over the last week or so - calling out to Yang Guang going up to the grate between the two enclosures and spending time in her pond to cool her internal system down - and now her hormone levels are changing too.
"Based on the data we have, we believe our female panda will probably be ready to mate early next week, likely on the Tuesday or Wednesday.
"We have hopes that they will breed, but it's totally up to them."
He said both pandas would be put into the same enclosure on the first day, with Yang Guang going to Tian Tian.
"Our expert keepers will be on hand to separate the two bears if the sparks fly just a little too much as, at the end of the day, both are powerful and dangerous animals and it's not uncommon for pandas to attack each other after or instead of mating."
He added: "We will introduce them up to three times on the first day.
"If all goes well, we will continue to encourage natural mating on day two as well.
"If natural mating doesn't occur on day one, we will consider artificial insemination."
Panda pregnancies can last for anything between 85 and 100 days.