Siddique murder: Life sentence for brother who ordered killing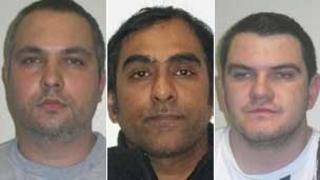 A Fife property developer has been jailed for life for ordering the killing of his millionaire brother over a business dispute.
Mo Siddique, 42, will have to serve a minimum of 25 years before he can be considered for parole.
Businessman Toby Siddique, 38, was shot dead in Glenrothes on 24 October 2010.
Hitman Tencho Andonov and fixer Deyan Nikolov were also given life sentences and were ordered to serve at least 29 and 18 years respectively.
The trio were convicted after a trial at the High Court in Edinburgh.
Toby Siddique was said to have been lured to a flat with the promise of cheap contraband cigarettes and alcohol after the brothers fell out in an argument over the family business.
He was shot in the face, and again as he lay on the ground.
Historic case
The court heard that Andonov had pulled the trigger, and that he and fellow Bulgarian national Nikolov had been hired by Mo Siddique.
Andonov was also convicted of attempting to murder David Dalgleish, 44, who was injured in the attack.
Andonov was given a minimum of 25 years for the murder of Mo Siddique and 12 years for the attempted murder of Mr Dalgleish with part of the sentences to run concurrently.
Passing sentence, Lord Kinclaven said: "You have each been convicted by verdict of the jury of the most serious of crimes, that is the crime of murder."
He told Siddique: "This was a premeditated brutal murder and the jury found that you were the driving force behind the killing. It was a pre-planned killing with a firearm.
"The victim was your brother, Toby Siddique, who was aged 38 when he was repeatedly shot in the head.
"This was a tragedy and continues to be a tragedy for all those who knew Toby Siddique, including the other members of your own family."
It brings to an end the largest and most complex investigation in Fife Constabulary's 62-year history.
Det Supt Colin Beattie, of Fife Constabulary, said that at one stage about 80 of the force's 1,400 staff were involved in the investigation, which cost in excess of £1.5m.
He said: "Thankfully such crimes are extremely rare in Fife. However, these convictions show that, whatever the gravity and magnitude of the crime, the police officers and staff of Fife Constabulary, alongside our partners, have the structures and processes in place to bring these killers to justice.
"I would like to thank the diverse range of communities in Fife for their help and support in solving this case.
"Various nationalities and cultures cut across the entire investigation and our staff received co-operation and assistance from all concerned."