Further delay to Dalgety Bay beach radioactive clean-up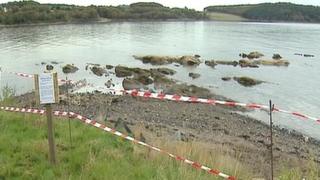 Work to deal with radioactive contamination at Dalgety Bay beach will not take place until May 2013, after a full investigation has taken place.
The Scottish Environment Protection Agency set deadlines in November for the MoD to provide an action plan for the Fife beach.
However, Sepa has now said that the situation at the beach is "more complicated than initially believed".
The radioactive particles are thought to have come from World War II planes.
The Scottish Environment Protection Agency also said it would not declare the area as "Radioactive Contaminated Land".
However, officials said they could change their minds if it was found the investigation was not being carried out properly by the MoD.
Dr James Gemmill, Sepa's radioactive substances unit manager, said: "We are satisfied that real progress is being made and, as a result, we will not be designating the beach at this time.
"A number of smaller investigations have been undertaken over a number of years, including Sepa's recent work on the headland area.
"This investigation work will provide a comprehensive look at the entire area and allow the development of remediation options.
"We must emphasise that once the plan is implemented, which we expect by the end of May 2013, Sepa will be in full possession of technical issues, including dumping areas, distribution of the hazard posed by radioactive material, impact of shore erosion, ownership history and therefore the responsible party or parties.
"We will also have reviewed remediation options and chosen the most appropriate.
"At that stage we will expect action to follow urgently."
He added: "We would prefer that the contamination at Dalgety Bay is dealt with on a voluntary basis so we can avoid the need for designation.
"However, Sepa can still designate the area at any time, depending on circumstances.
"This would be done if Sepa considers that work undertaken by MoD is inadequate, or further relevant information comes to light, or if there is no voluntary remediation following these investigations."
'No doubt'
Former Prime Minister Gordon Brown, the local MP, said: "The pressure of the community council and local residents have forced more monitoring and a major investigation into the state of the area to be completed by May 2013.
"But we have yet to get an agreement on the funding of and timetable for remedial work. This may lead the Ministry of Defence to believe that no remedial work may be necessary.
"It is therefore right that while the immediate risk of designation is lifted, the Ministry of Defence are left in no doubt that this designation is a threat that, until the clean-up is done in a remediation action plan, hangs over those who have caused the risks at Dalgety Bay."
Scottish Environment Secretary Richard Lochhead said the progress was encouraging.
But he added: "There is still a long way to go before the problems at Dalgety Bay are fully resolved.
"I hope the MoD will work closely with Sepa to resolve any outstanding issues."
An MoD spokesman said: "The MoD has demonstrated a serious commitment to assisting Sepa, the Scottish government and the Dalgety Bay Forum in dealing with the situation at Dalgety Bay.
"We will continue to work with them to identify the likelihood and scale of the residual risks and the requirement for remedial action.
"MoD has assisted Sepa voluntarily and we have reached agreement on the way forward, working together to assess residual risks and determine the scope of any remedial action."
Part of the shore was cordoned off in October 2010 for investigation after radioactive particles were found.
Dalgety Bay hosted a wartime airfield, where many aircraft were dismantled.
They were used as landfill and it is thought erosion has led to radioactive radium from the aircraft dials leaking on to the foreshore.