Expansion plan for Scottish Seabird Centre in North Berwick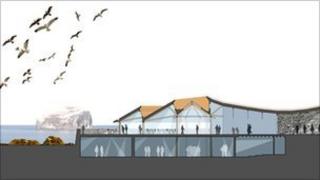 The Scottish Seabird Centre in North Berwick could be renamed under plans for a major expansion.
The North Berwick centre has become a popular visitor attraction since opening 12 years ago.
It could now be renamed the National Marine Centre to highlight its role in raising awareness of Scotland's marine environment and wildlife.
The expansion plans would create additional facilities for visitors, particularly school groups.
More than a quarter of a million people already visit the five-star rated attraction every year.
The centre's original architects, Simpson & Brown, have produced some sketch drawings of what the extension could look like.
They believe the plans would complement and enhance the appearance of the award-winning building.
Tom Brock, chief executive of the centre, said the expansion would provide a significant boost not just to the economy of East Lothian, but also to Scotland's growing reputation as Europe's leading wildlife tourism destination.
He said: "This long-term vision would allow us to achieve even more in the future.
"It is at a very early stage with no funding or detailed plans, however initial feedback on the idea has been extremely positive and we are keen to engage with as many people as possible to get their ideas and thoughts."