Bathgate sheep turn green to mark St Patrick's Day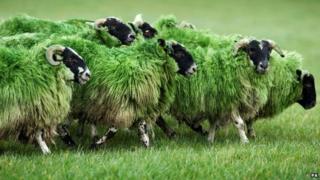 A flock of Scottish sheep has joined famous global landmarks in turning green to mark Saint Patrick's Day.
The London Eye, Niagara Falls, the Empire State Building and the Leaning Tower of Pisa are also "greening" in an event to promote tourism in Ireland.
Other sites in Scotland along with the Bathgate flock include Glasgow's Clyde Auditorium and George Square Wheel and the Camera Obscura museum in Edinburgh.
St Patrick's Day sees celebrations around the world on 17 March.
Niall Gibbons, chief executive of Tourism Ireland, said: "St Patrick's Day traditionally marks the start of the tourism season in Ireland and we're delighted to be continuing our greening initiative again this year, with some new additions such as the Leaning Tower of Pisa, Selfridges in London and even a flock of Scottish sheep.
"Our aim is to bring a smile to the faces of people around the world, whilst also showcasing our wonderful tourism product to a global audience."
In Ireland, the traditional parade through Dublin will have a scientific theme as the capital is the City of Science 2012.
The Bathgate flock has previously turned blue to mark St Andrew's Day, purple to raise awareness for Scottish veterans' charity Erskine and red just to "brighten things up".