Fife guinea pig Truffles makes world record leap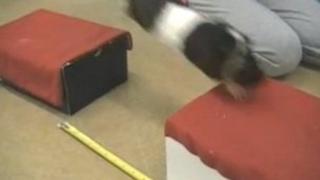 A Fife guinea pig has leapt to fame after breaking the world record for the longest jump for his species ever recorded.
Truffles, from Rosyth, Fife, jumped into the Guinness records with an amazing 30cm leap, breaking the previous record by 10cm.
The rodent has had his feat confirmed by Guinness World Records.
Truffles' owner Chloe Macari, who is 13, tempted him with cucumber, to produce the jump.
A Guinness World Records spokeswoman said: "The longest jump by a guinea pig was achieved by Truffles, who cleared a gap of 30 cm (12in) in Rosyth, Fife, UK, on 21 February 2012."
Chloe's mother, Angela,told The Courier: ''Chloe knew Truffles had always jumped so tried it out - she followed what they had done and set two boxes up at the same distance as the record. He jumped that no problem and continued to break the record.''