Flora Stevenson Primary school evacuated after asbestos exposed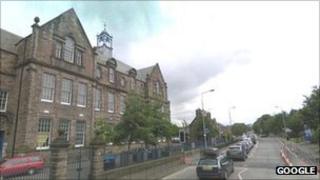 An Edinburgh primary school has been evacuated after asbestos was disturbed during work to upgrade the building.
Flora Stevenson Primary school, in the city's Comely Bank, evacuated all 447 pupils and teachers at about noon following the incident.
Parents have been alerted to the emergency and pupils have been taken to neighbouring Broughton High School until they can be picked up.
It will remain closed on Friday while tests are carried out on the building.
It is understood the asbestos was exposed after a worker drilled through a board under a stairwell in the cloakroom area of the school.
Situation information
Mike Rosendale, Edinburgh City Council's head of schools, said: "A small quantity of asbestos has been disturbed at Flora Stevenson's Primary School, during routine work which took place out of school hours.
"The health and safety of pupils is of paramount importance, so as a precaution pupils have been transferred to Broughton High School until their parents are able to collect them.
"The school will remain closed tomorrow while further tests are carried out on the building.
"We will keep parents and staff informed of the situation and more information about the reopening of the school will be available soon."