Crown in Angus Sinclair World's End retrial move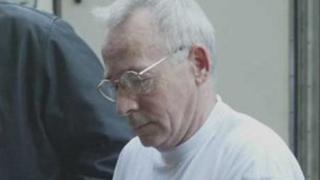 The man cleared of carrying out the World's End murders could stand trial for a second time under Scotland's new double jeopardy laws.
BBC Scotland understands prosecutors are likely to lodge an application to have Angus Sinclair's acquittal set aside within weeks.
The move relates to new evidence which has emerged in the case.
Sinclair was cleared five years ago of murdering teenagers Helen Scott and Christine Eadie in Edinburgh in 1977.
They were last seen alive leaving the World's End pub in the capital's Royal Mile.
Sinclair's original trial collapsed in September 2007 when judge Lord Clarke ruled the Crown had insufficient evidence to proceed with the case against the convicted killer and sex offender.
But BBC Scotland has learned that fresh evidence, which was not available at the trial, has since been uncovered by police.
This includes DNA on ligatures used to strangle the girls which was found using new forensic techniques.
The Crown is now set to ask the Appeal Court to set aside Sinclair's acquittal. If judges agree to the request, it would pave the way for him to be charged with the murders for a second time.
Former Deputy Chief Constable Tom Wood, who was in overall command of the case until he retired in 2005, said: "Over 30 years, generations of police officer have never let it go, never forgotten Helen and Christine, and now it's clear neither have the crown. And that has to be very good news for justice in Scotland."
Sinclair is currently serving a life sentence for killing 17-year-old Mary Gallagher in November 1978. He also has a string of convictions for sexual offences including the sexual assault and strangulation of eight-year-old Catherine Reehill in 1961.
His acquittal was specifically referred to by Justice Secretary Kenny MacAskill when the new double jeopardy law came into force in November following a two-year review by the Scottish Law Commission.
The commission's report had recommended that any change to the 800-year-old law should not be imposed retrospectively, which would have prevented Sinclair being charged for a second time for the World's End killings.
'Reassurance to families'
But this recommendation was ignored in the Scottish government's subsequent legislation, which said suspects could face retrial for very serious crimes if "compelling new evidence" emerged, even when the original trial had been heard before the new law was introduced.
The previous double jeopardy law prevented anyone cleared of a crime standing trial for a second time.
A statement released by the Crown Office, after being contacted by BBC Scotland, said the World's End murders were being investigated by Lothian and Borders Police following a review by prosecutors.
It said the families of Miss Eadie and Miss Scott were being kept informed of developments in the case by the Crown and police.
The statement continued: "Whilst it is not appropriate to comment or speculate on the live investigation into these murders, the public can be assured that where there is new, compelling evidence of guilt, the length of time since committal or acquittal should offer no protection.
"We are committed to using the powers under the new double jeopardy legislation; we hope that this commitment will give reassurance to the families of Helen Scott and Christine Eadie."