Crews tackle large rubbish fire in Edinburgh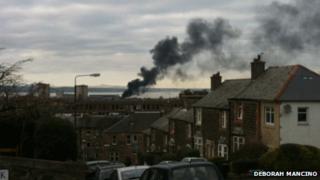 Firefighters have tackled a blaze which ripped through a large pile of rubbish, sending thick black smoke into the skies above Edinburgh.
Locals reported seeing the plume from the fire, just off Bath Road in Leith, from miles around.
Lothian and Borders Fire and Rescue Service said they were called out just before 15:45 and the blaze was extinguished at about 16:50.
The cause of the fire is not yet known and investigations are under way.