Suzanne Pilley murder trial: Jury goes home for the night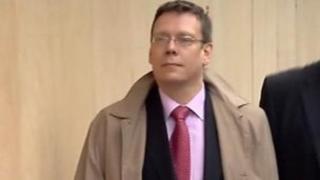 The jury considering its verdict at the Suzanne Pilley murder trial in Edinburgh has gone home for the night.
David Gilroy, 49, denies murdering Ms Pilley in 2010. Her body has never been found.
Ms Pilley, who was 38, was last seen on 4 May 2010, close to her work in Edinburgh's New Town.
Earlier, the jury was told by an advocate representing Mr Gilroy that the case against the accused was circumstantial with no hard evidence.
Summing up for the defence, Jack Davidson QC urged the jury to assess the evidence "dispassionately".
He said the Crown wanted it to convict on an intuitive basis, but he said this was a circumstantial case.
At the High court in Edinburgh, he said it would be unsafe to convict Mr Gilroy of murder.
On Monday, prosecution lawyer Alex Prentice QC claimed Mr Gilroy took his car from home to his work offices in Edinburgh's Thistle Street and put Ms Pilley's body in the boot.
'Lonely grave'
The QC claimed that the next day Mr Gilroy transported her to a "lonely grave" somewhere in Argyll.
Mr Gilroy, from Edinburgh, denies murdering the 38-year-old in Thistle Street or at another location.
On Friday, the Crown withdrew a number of charges against Mr Gilroy.
However, he remains accused of Ms Pilley's murder and concealing her dead body.