Disney/Pixar film Brave to premiere at Edinburgh International Film Festival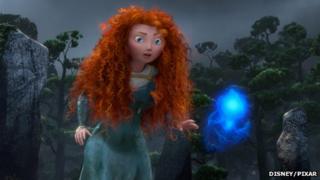 Disney/Pixar's Scotland-set animated film, Brave, is to have its European premiere on the closing night of the Edinburgh International Film Festival.
The film, which is set in a mythical Highlands, will premiere on 30 June.
Several of the characters are voiced by Scots, including Billy Connolly, Kevin McKidd and Craig Ferguson.
Kelly Macdonald provides the voice for the main character, a princess called Merida, and Robbie Coltrane voices a lord called Dingwall.
Directed by Mark Andrews and Brenda Chapman, Brave is to be released across the UK on 17 August.
First Minister Alex Salmond made the premiere announcement during his speech at VisitScotland's Winning Years Conference in Perth.
He said: "I am delighted to announce that Hollywood will roll into town during the Edinburgh International Film Festival when we host the European premiere of 'Brave'.
"This will present us with an immense opportunity when Scotland will be centre stage in the film with all the tourism and business opportunities this will bring.
"I fully expect that as the film launches across the world, so will awareness of Scotland increase."
He added: "Brave will be the most high-profile film ever set in, and themed around, Scotland, featuring Scottish stars.
"We are looking at a film which comes from the award-winning team behind such box office smashes as Toy Story, Finding Nemo and Up, and will create global buzz when it is released."
Scottish talent
The announcement comes just days after VisitScotland revealed it had joined forces with Disney/Pixar in a campaign designed to promote Scottish tourism across the world and bring a boost to the Scottish economy.
Chris Fujiwara, Edinburgh International Film Festival artistic director, said: "We're delighted to host the premiere of Brave and continue the festival's long relationship with Disney.
"Though we are an international film festival, we're mindful that we have a special responsibility to Scotland's cinematic image.
"It makes perfect sense that this film, which is so strongly tied to the cultural mythology of Scotland and the beauty of the Scottish landscape, and in which Scottish talent has such a significant involvement, should be part of our festival."
Mike Cantlay, VisitScotland chairman, said: "The film will showcase the scenery, humour and culture of Scotland and we are looking forward to converting cinema-goers into visitors."
Formerly called The Bear and the Bow, the film follows Merida, an impetuous girl who defies an age-old custom and inadvertently unleashes chaos, forcing her to discover the meaning of true bravery before it is too late.