Suzanne Pilley murder trial: David Gilroy does not testify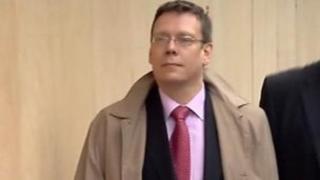 The man accused of murdering Suzanne Pilley has chosen not to give evidence in his defence.
David Gilroy, 49, who denies killing the missing office worker, could have testified at the High Court in Edinburgh but elected not to.
The prosecution has begun to sum up its case, which was described as "unusual" because there was no dead body.
The defence has finished leading its evidence in the case. Ms Pilley disappeared on 4 May 2010.
'Lonely grave'
Prosecution lawyer Alex Prentice QC told the court during his closing speech that Mr Gilroy was accused of killing Ms Pilley in the basement of her office before placing her body in a recess.
Mr Prentice then claimed Mr Gilroy brought his car from home and put Ms Pilley's body in the boot and the next day transported her to a "lonely grave" somewhere in Argyll.
He said the evidence pointed to a "sudden interruption" in Ms Pilley's life because since she has vanished she has made no contact, there had been no activity on her credit cards and she had not made any arrangements for her pet fish and cat.
He also said the lack of calls and texts from Mr Gilroy after Ms Pilley went missing suggested he knew she was already dead and that he had her phone.
He also pointed out that Mr Gilroy, who was the one person with intimate knowledge of Ms Pilley, had gone on a journey of "no importance" the day after she had disappeared instead of "assisting the police inquiry".
He added that Ms Pilley had last been seen on a routine journey and had been caught on camera 20m from her place of work at the IML office.
The defence is due to give its closing speech on Tuesday.
Earlier the murder trial heard from a number of witnesses who were in the Edinburgh building where she worked on the day she disappeared.
They said they did not notice anything out of the ordinary at the premises in Thistle Street on 4 May 2010.
Mr Gilroy, from Edinburgh, denies murdering the 38-year-old in Thistle Street or at another location.
On Friday, the Crown withdrew a number of charges against Mr Gilroy.
However, he remains accused of Ms Pilley's murder and concealing her dead body.