Drivers warned over Forth Road Bridge work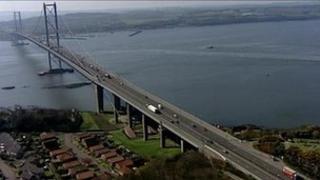 Final preparations have started for work on the Forth Road Bridge which threatens significant traffic disruption over the weekend.
Work on the east main cable was scheduled at short notice after an inspection found new damage.
The problem involved nuts and bolts which hold the vertical hanger ropes to the bridge's main suspension cables.
Bridge traffic will be restricted to a single lane in each direction on Saturday and Sunday mornings.
The work is scheduled to last from 03:00 to 12:00 on both days.
Drivers have been warned similar restrictions may be required on subsequent weekends.
Chief Engineer and Bridgemaster Barry Colford said: "We know from experience that queues of over 90 minutes are likely to build up after 9 am, particularly on Saturday.
"Drivers are advised to delay their journey, take an alternative route or use public transport.
"We're sorry for the inconvenience this causes and would like to thank the travelling public in advance for their patience and understanding."